The region's spectacular scenery and wildlife are right at your fingertips during your stay at the Outpost. Whether you're a seasoned birdwatcher, an avid fly fisherman, or you're just here to relax, there is something here for everyone to enjoy.
If you are a birdwatcher, you're in terrific company: spectators come from near and far simply to catch a glimpse and even photograph the plethora of American Bald Eagles, Ospreys, Blue Herons and Red Tailed Hawks in the area. Hiking trails are abundant, and visitors can enjoy searching for other popular signs of wildlife, including White Tailed Deer and Red Foxes. For biking enthusiasts, hundreds of miles of exploratory paths are at your fingertips.
Besides hiking, birding, and fly fishing, plenty of activities await you and your family. With immediate and direct access to the Beaverkill River, family-friendly adventures, including kayaking, fishing, and tubing are all available to our guests.
Fishing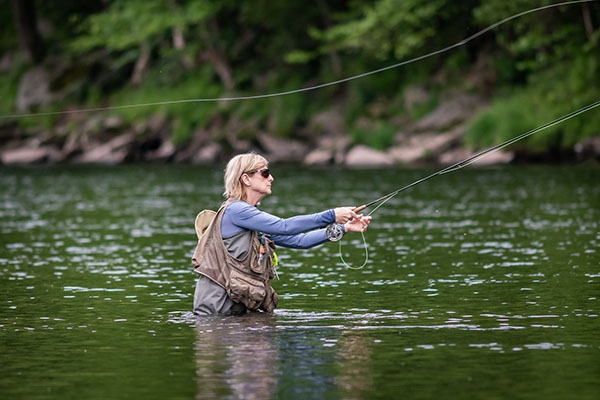 As you look downstream from the observation deck you are able to view our entire 850 feet of frontage on the Beaverkill River referred to as Stadels Run that flows into the headwaters of Cemetery Pool. This section of River boasts both fast water riffles and deep pools that provide outstanding holding water for both rainbow and brown trout.
Another ideal location is at the Pepacton Reservoir, which spans roughly twenty miles long and averages about one-half mile wide. The reservoir is a 5,700 surface acres New York City owned water shed that provides the East Branch of the Delaware with its cool releases.
The Pepacton offers great trout fishing as the large brown trout that live here quickly grow to an average size of 5 pounds – with some up to 15 pounds! Casting lures and bait from shore – or trolling from row boats – are the most effective methods for catching these giants. Small mouth and large mouth bass, perch, rock bass, black crappie and brown bullhead are also sought after by shore anglers.
Hiking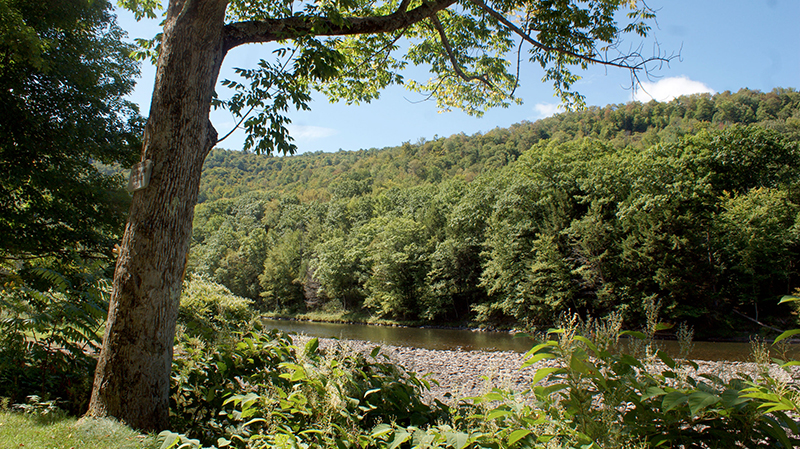 Not a birdwatcher, biker, or kayaker? The hiking paths around Cook Falls anxiously await. The Trout and Mud Ponds is a 4.5 mile loop trail, rated as "moderate". The trail is know for its hiking and is accessible from June until October. For the more experienced hiker, the Peekamoose and Table Mountains Trail in nearby Claryville (roughly 30 miles from the Outpost) is a 10 mile out and back trail. Open year-round.
Tubing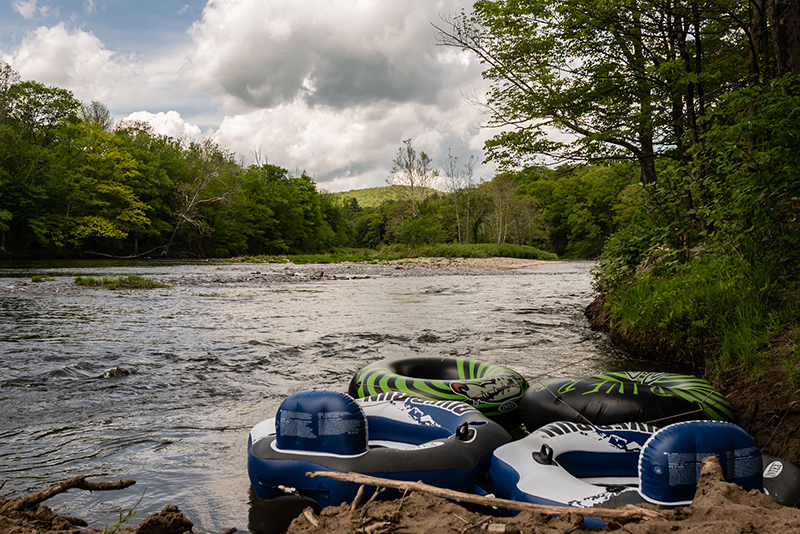 Come tube the river frontage at the Outpost! You can also plan a much longer trip along the beautiful Beaverkill River. Tubes can be purchased at our sister property, Roscoe Campsite Park.
Kayaking / Canoeing / Paddle boarding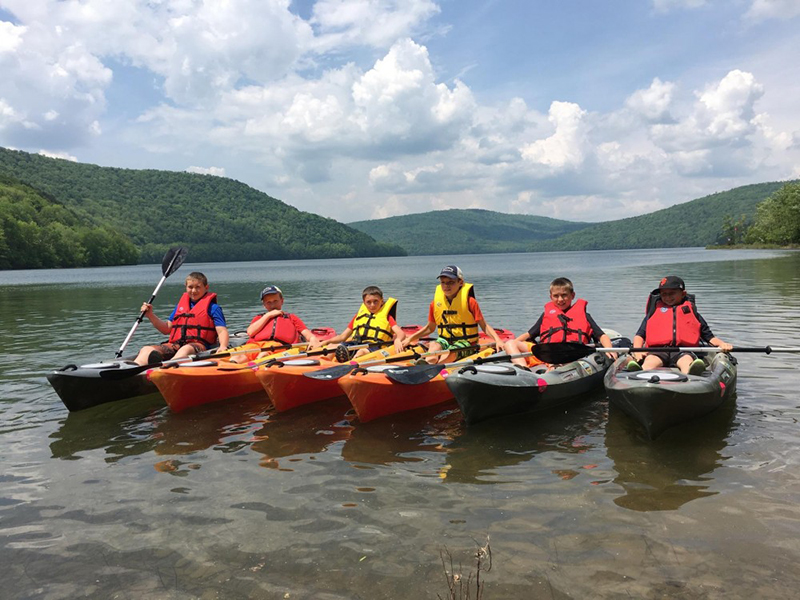 To enjoy a full-day of kayaking, let us shuttle you to Lake Wanita, a beautiful quiet destination just fifteen minutes from the campground. We have kayaks, canoes and paddle boards for rent at our sister property, Roscoe Campsite Park, or bring your own. Go for the day and relax on the water or on the shore. We can arrange for a picnic lunch or a sunset meal. We have various fishing rods and reels also available for you to rent at our sister property, Roscoe Campsite Park. Tubes are also available for you to enjoy on a lazy day sun bathing on the lake. Whatever your pleasure, it is sure to be a memorable experience!
Kayaks and canoes can be rented at our sister property, Roscoe Campsite Park. Daily rentals are $35.00. Shuttle service can be arranged to various destinations in our area. All rentals include life jackets and paddles. Inquire about Canoe trips on the Delaware River.
Biking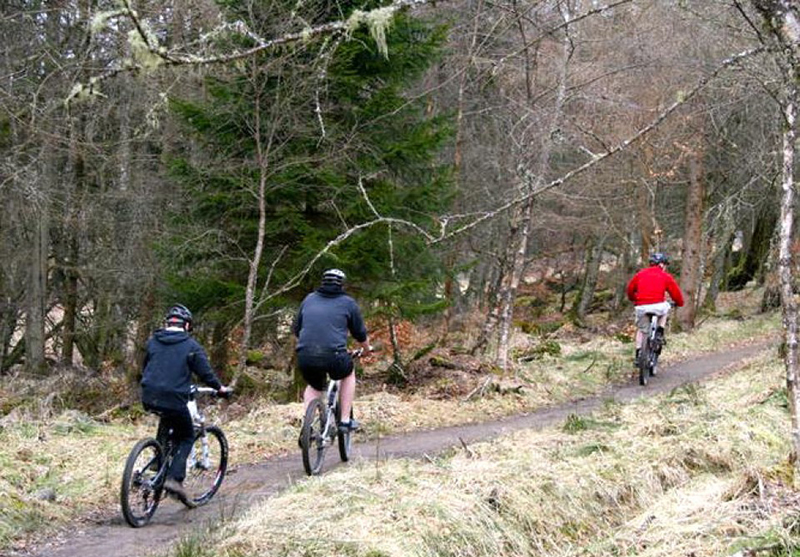 With miles upon miles of nearby trails available for you to explore, you will be sure to find the road or trail that is right for you. Within driving distance is the Catskill Scenic Trail, for example, which provides 26 miles of breathtaking scenery as it winds through vast farming regions and smaller towns across New York's Catskill Mountain region.
Bikes for rent are available at our sister property,
Roscoe Campsite Park. Bike rentals include helmets. Trail maps are available upon request. Performance bikes may cost additional.
Electric Bikes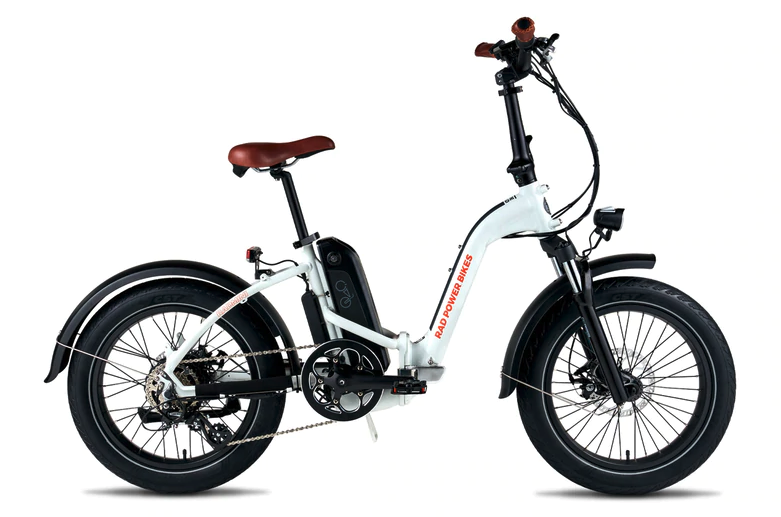 What's an eBike?
Just picture a regular bicycle, then add several electrical components to it like a motor, a battery, and a controller – all seamlessly integrated into the design. Electric bikes pedal and handle just like a regular bicycle. By and large, an electric bike will use the same parts too. The electric component is meant to augment human power, not completely replace it. It makes obstacles like hills and headwind more manageable and allows you to travel further without getting as tired.
Our Farm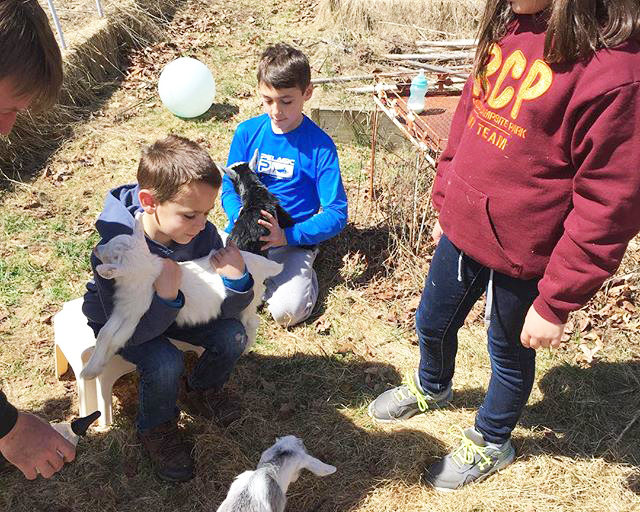 Our journey began one February afternoon when it was brought to our attention that a local farm in the area had two newborn Nigerian dwarf goats available for sale. When we arrived at the farm we were introduced to Chloe and Ivy, only two days old. Both would require bottle feeding 5 times a day . As we agreed to take responsibility of these two adorable babies the farmer then approached us to take a look at another Nubian,Nigerian dwarf goat that had been born the day before. Unable to leave him behind, he would be later known as Odie! After two months of bottle feeding they were introduced to their newly built enclosure at the Outpost . They have become a favorite attraction for our guests.
Soon thereafter the Outpost team took a afternoon trip to Buck Brook Alpaca Farm. It was there that we all fell in love with the gentle majestic nature of the alpacas. It was without hesitation that we agreed that these animals would be a perfect addition to our farm. We then purchased three male alpacas known as Emeril , Moonshine and Barnabas. We were pleased to learn that both our goats and alpacas could share the same pasture area and enclosure. It's become a real treat to observe the goats and alpacas as they entertain our guests with their amazing individual personalities. On special occasions guests may get a chance to enter the pasture area and meet our friendly animals and hand feed treats.
Golfing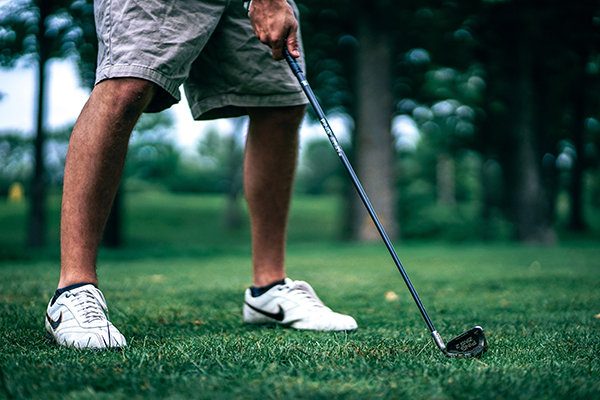 Interested in squeezing in a round of golf during your getaway? No problem. The Outpost is conveniently located amongst a number of golfing destinations. Take in the sweeping views of the nearby Catskill Mountains with your friends and family throughout your game and come on back afterwards to your home at the Outpost!
Tennanah Lake Golf and Tennis Club
100 Fairway View Drive, Roscoe NY 12776
Tennanah Lake Golf and Tennis Club was designed by PGA champion Sam Snead and features an 18-hole, par 72 layout across 1,000+ acres of land. On site, there is also a Pro Shop and a restaurant called, "The Grill", which offers breakfast, lunch and dinner and is an ideal place to sit and relax before or after your game. The Club also offers private lessons. Open seasonally.
Twin Village Golf Club
144 Rockland Road, Roscoe, NY 12776
Another terrific nearby option is Roscoe's Twin Village Golf Club. The 90-year old club is a member-owned, not-for-profit organization that caters to both Roscoe residents and visitors to the area. The course is a challenging 9-hole, par 32 round of golf, and carts are available on site.